Most everyday these days, I wake up with very little, if anything to do.  Should the day go as expected, I am able get a good portion of it all done.  Today was no different.  By 3pm, on this particular Saturday, I drifted away from the hotel in search of somebody or something.  Apparently, I was exploding with things to say.
The 50 year old man from Switzerland appeared out of humid air.  Originally from North San Diego County, he's been living over in Europe since 1985.  That was the year I graduated high school. He left the San Diego area when there was very little on the East Side of Hwy 5. He's been coming to Puerto Escondido for many years.  He was in his kitchen making pasta sauce, and it looked like he knew what he was doing.  We made small talk about how manageable it has been at Zicatela lately, and in the same breath how a four foot wave around here can bitch slap you silly. We both agreed that you CAN NOT afford yourself to be on the receiving end of any sized lip.  And Yes, even a two foot lip.  He told me that he is finally at peace with not still having to have that perfect, stand up, truck sized, spitting barrel ride any longer.  He then went on to say that he is NOT at peace with never having had that very ride aforementioned.  Heavy duty stuff! I couldn't help but see right through the middle aged man.  Just then, a massive thunder strike rocked the entire area.  The hair on the back of my neck stood up, reminding me that it was time to hack that shit back.  I told him that thunder and lightening were underrated elementals.  He lit up a cigarette and asked if his right ankle appeared swollen.  I couldn't help but notice all the open cuts and purple scar tissue all over his legs and feet.  "The ankles don't look too bad," I said.  He offered me up a cold beverage and then wanted to know my story.
I told him I was here to be a tube rider, and that after a solid week of manageable surf, I felt I was on my way.  I told him that I was still petrified of the thought of any kind of real beat down on a Six Foot Day.  The Six Foot Day where 44 year old men must choose the proper weapon, leave the rope at home, and find that one perfect barrel.  I told him that I sort of thought that I kind of maybe really wanted it.  I told him that everybody loves 2-4 foot days out in Puerto, not just the old guys like us.  I told him that when it's 3-5 foot at Main Beach, if the excuses don't riddle you first, you had better be a solid athlete in the water, because the consequences run extra high in these waters.  I told him that a Solid Six Foot out here is so nasty and dangerous, that if you have any reservations about your strength and abilities, you had best stay on land.  I then started using words like T-Rex, Water Cornices, Underground Vortexes, and the like.  I told him that anything bigger than Six Foot means that most local and visiting surfers alike are forced to surf elsewhere.  Myself included.  I told him that I have a golden opportunity to build up to Six Foot Puerto, and I am taking my time in getting to that point.  I told him about my double strung 8'0" Gun that has never been snapped and built for this exact beast of a wave.  I told him that I still wasn't too comfortable managing that board at the present time.  I told him that I can almost smell it happening soon based on what I've gotten out of myself this past week.
He suggested I come back at dark for dinner.  "I'm making pasta, and I know what I'm doing," he said.  This is where you can insert a Cosmo Kramer Guh Guh Guh, because that is what came out of me.  I was fired up.  It was 5pm.  The rains had begun, which was sure to bring the evening offshores.  By 6:30pm it was blowing hard offshore.  I waxed up and paddled out for my second Szechwan of the day.  There was one guy out at Far Bar.  I rode my 6'6" Composite with leash.  Like I said, it was still 2-4 foot.  I managed to slip out pretty easily through the Rip.  The distilled water was coming down in offshore sheets.   Finally what looked like a makable four foot wave came right to me, and I went.  If you measured this 'four footer' from the top of the pitching lip to the ocean floor, it was more like 10-12 actual feet of mayhem.  For starters, the sea floor is moving like those floor escalators at the airport, and the wave itself is about 80% Vert.  There are no fluffy biscuits and free handouts at the Mexican Pipeline.  I digress.  During the critical takeoff moment, I became ineptly blinded by water and wind.  The wave jacked.  Although my eyes were open, they might as well been closed.  And so it was…..that later….as the surfer told his tale, la la la and then I got thrown out into the flats and was beat down accordingly.  I spent 20 min. trying to scrap back out.  No Cigar.
I showed up at 8pm for pasta, hoping to God that I would be fed enough calories. Dinner was was still an hour away, which left me little option.  I snuck a Double TBSP of Skippy Peanut Butter right out of his Jumbo Jar.  At 9:30pm, I got my plate of pasta.  It was delicious.  Best I've had in a while.  It just wasn't enough..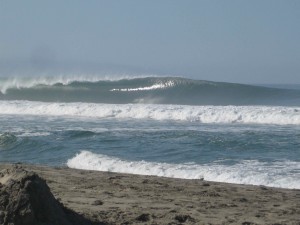 Six Foot Puerto